Stage design involves visually transforming the area where the speaker stands. Even if there is no raised stage area, it could be important to consider elements such as the backdrop and lighting. Having a clearly defined stage area is important for not just telling the audience where to look, but for also building credibility for the speaker. A stage design company can help you to design and build your stage.
Before you Start the Stage Design
To determine which type of stage design is right for your event, it's worth asking yourself a few questions beforehand.
You should then ask yourself 'what is your theme?'. It could be important to incorporate this theme into the set design. For example, a seminar on space exploration could benefit from a sci-fi theme, whereas a conference on environmentalism could benefit with more of an earthy and green theme for setting the tone.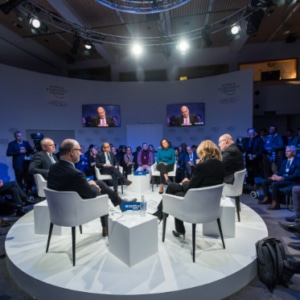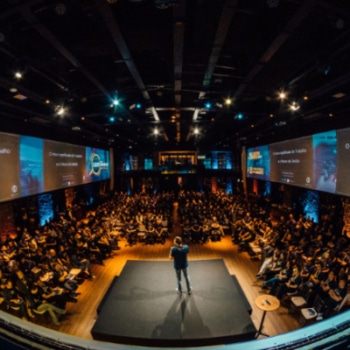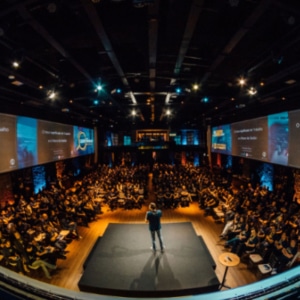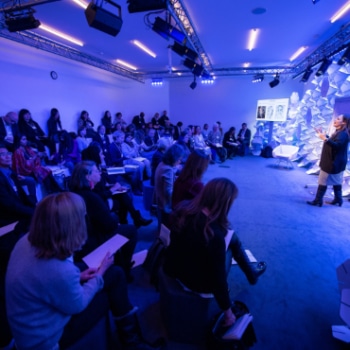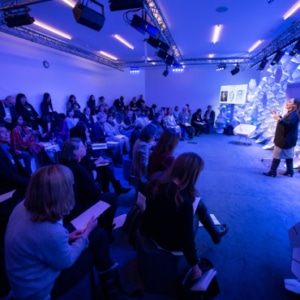 Start by considering the stage itself. Where will the stage be located? And where will the speaker stand on the stage? Some of the following conference stage design ideas could be worth considering…
Visual branding such as your logo, company name and brand colour scheme could help your audience to remember your brand in the future - which could be important when speaking to people who are likely to be unfamiliar with your brand.
Centre stage/ 360-degree stage
A centre/360 degree stage could bring you closer to the audience. However, it does require the speaker to move around the stage more to keep everyone involved.
An event with multiple stages can give the audience a choice as to where to focus their attention. When working with other businesses or hosting a trade show, multiple stages could be beneficial for providing more people with access to the stage.
Asymmetrical stages can draw focus to one side of the stage. This may have practical benefits such as allowing you to stand out of the way of the screen if it's positioned quite low, or it could just be a quirky feature to make your conference stand out.
3D stages can add more space for walking around. B-stages are often used in concerts, but can also be used in conferences, allowing you to get closer to the audience (which could be useful for parts of the conference that may require interaction such as answering questions).
Next, you should consider what is going on in the background. A good background should draw people's attention without being too distracting. A few backdrop design ideas are discussed below…
Shaped backdrop/cut-out combinations
Cut-outs and unusual shapes like circles and triangles are great for making your background stand out while still using the same colours and textures.
This could be an alternative to the standard flat backdrop, helping to provide extra depth and potentially giving the stage a cosier and more intimate feel.
Floating letters could be used to draw attention to your brand name, slogan or simply a thematic word that you want your audience to ponder.
Cube lights are fun and playful props that can draw attention to different parts of the stage. They can be stacked and can even display different colour lights. Some can even be used as seating.
Seating can be added to different areas of the stage. This allows you to move around and sit down in different parts of the stage (possibly when talking to different sections of the audience or carrying out different tasks like product demos and prize draws).
3D backdrop (hanging structures)
On top of the stage itself, you can add a 3-D element to the backdrop. This could include banners and props that hang over different parts of the stage, or even over the audience.
Stage Lighting Design Ideas
Lighting can be used to focus people's attention to certain areas of the stage or simply create an atmosphere. There are lots of different stage lighting ideas that you can look into…
Personalised light-up cubes
These are light-up cubes that could display your brand name or logo. They can add an ambient glow and direct people's attention to your brand.
Up lighting can be used to draw attention to a podium or product display. If the back of the stage is quite gloomy, you can also brighten it up with up lighting.
Angled lights can serve as spotlights, focusing attention on certain areas of the stage. They can be more dramatic than up lighting.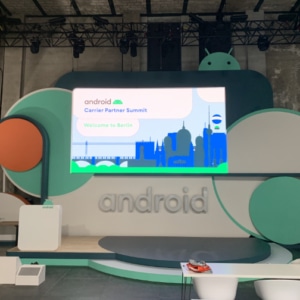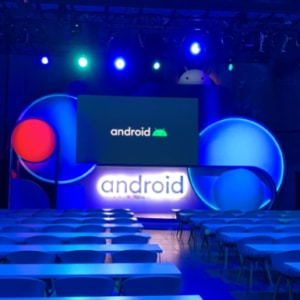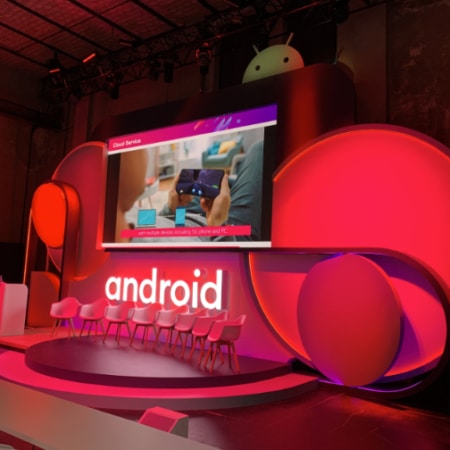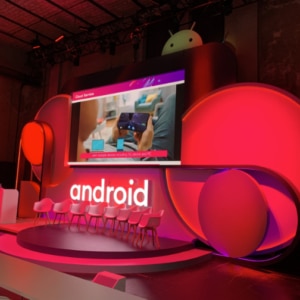 Event Screen Design Ideas
Event screens are typically used to display slideshows, videos or other information. The style of these screens is important to consider too when designing the perfect conference stage. A few ideas are discussed below…
Screens can come in all different shapes. These creatively-shaped screens are certain to grab people's attention.
Multiple screens are typically used to display different types of information or allow different parts of the audience to see information clearly. These screens don't have to be positioned away from each other - overlapping screens could create an exciting 'busy' effect, which could be great for montages or times when you deliberately want to overwhelm the audience.
Wall-to-wall screens are certain to make information clear. If your conference relies heavily on video content or data on a screen, it could be worth considering such screens.
Striking stage design will hold people's attention and make your event more memorable. There are a few features that are guaranteed to grab your audience…
Colour contrast/branded colour outlines
Colours are one of the simplest ways to grab people's attention. Use colours that contrast the backdrop or that relate to your brand. You can also explore colours psychology (for example, blue is calming and trustworthy, while red it energising and persuasive).
You don't have to stand up throughout the conference, nor do you need to settle for a simple plastic chair. A couch or an armchair could be ideal for conferences where you want to create a sense of intimacy or informality. If you're inviting guests up on stage, a sofa could also put them at ease. 
Doing something out of the ordinary with your decor is certain to grab people's attention. This could include unusual props or strange patterns.
Pyramid screens are literally pyramids with screens on all four sides. They are not practical for viewing information on, but can be a cool and quirky form of decor to have alongside a more traditional screen.
As with pyramid screens, these splatter effect screens can be a quirky supplementary form of screen - ideal for events that require a playful vibe.
Flowers aren't just for weddings and funerals. For a natural burst of colour, why not add a floral display to your stage? Flowers are great for less tech-heavy events.
IMA Solutions is a well-known designer and manufacturer of event stages. Our skilled team can assist you from start to finish on your project. Do you want to know more? Simply give us a call to begin brainstorming ideas.
Find out more about us on social media