Consider the event purpose and theme
The purpose and theme of your event should guide your stage design – after all, designs should be conducive to your theme and overall messaging of the event in order for it to be a success. This may be a charity night, awards evening, sporting event, or product release – whatever the purpose of the event, make sure you firstly define your purpose and theme and then stick to it throughout your design.
Innovative set design can also help market your event, especially if it offers photo opportunities. By maintaining your theme and purpose throughout your set design, any photo or word of mouth opportunities which occur will also raise awareness of your event purpose or theme.
Moreover, consider the audience you will be targeting for your event. The design of your stage should be visually appealing and engaging for your target audience. If you are hosting a youth-oriented event, your stage design should be bold and colorful, while a more formal event may call for a sleek and sophisticated design.
The stage should also be functional for the performances or presentations that will be taking place. Ensure that the stage is the appropriate size for the number of guests attending and that there is adequate space for any equipment or props that may be needed.
Small designs with great impact
Smaller events should still design for a big impact, and there are plenty of ways to do this. Here are some innovative stage design ideas for smaller events.
Stage covering and flooring
Your flooring should be durable and it is important to prevent trip hazards, however you can still have fun with your stage covering and flooring. Experimenting with different flooring is an innovative way to extend your theme to all areas of your set design. Hosting a sporting event? Why not try artificial grass as your stage covering of choice?
Making your flooring fun and unique is one way to get people talking about your event.
From the colour of your lighting to its position on the stage, consider how you can make your lighting stand out for innovative stage design. Remember, lighting must meet industry regulation in terms of keeping attendees and staff safe, however, you can still experiment with auxiliary lighting to create dramatic shadows and dynamic shapes on your stage.
Try using lampshades to create ambient lighting, or string smaller lights overhead to create a stunning effect.
Plants and floral backdrops
On stage plants and floral backdrops are the latest trend to create beautiful backdrops for airy and light stage design. Environmentally friendly events or event purposes, agricultural events, and certain trade show or product release events may utilise plants and floral backdrops.
However, plants and floral backdrops won't fit every event theme, so it's important to consider your purpose before using this innovative design feature.
Graphic wall panels are a cost-effective way of producing a backdrop for your stage whilst maintaining the integrity of your venue's walls. Wall panels are easy to construct, and can be customised to promote your branding and event theme. These wall panels can also be utilised for photo backdrops, suitable for sporting events, meet and greets, exhibitions and many other types of events.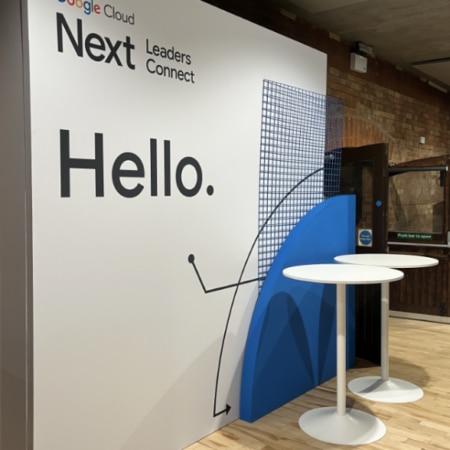 Get creative with your set design
Looking for something more experimental? We have some big ideas for larger events looking for innovative stage design which makes an impact.
Your stage props can be as large as your stage permits and as high end as your budget allows, designed and built bespoke for your event. Bespoke props can really help drive your messaging home to audiences, and provide a visual impact for the audience, particularly those at the rear of the room.
One unique idea which is currently trending is stage origami, which can be used to create beautiful, large illusions on stage which are especially impactful when paired with colourful lighting.
Multi-level platforms offer one way in which you can make your staging innovative. Event set builders can create bespoke staging platforms for a tiered effect or multiple levels. This can help draw the audience's attention to one area of the stage or another – perfect for award giving, product reveals, or accounting for multiple hosts on one stage.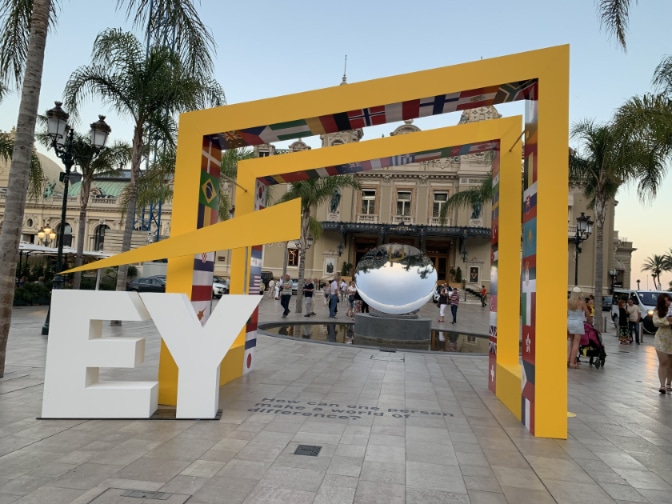 Don't be afraid to utilise your overhead space to hang props or lighting. Typically, your entire audience will be able to see the overhead space of your staging area from their seats, so it makes sense to use this space to further promote your theme and messaging.
However, be careful not to overfill your stage and distract from any backdrop visuals or messaging.
Undulating and revolving structures
Adding further dynamic to your stage design through moving structures, such as turntables and revolving stage elements, provides the wow factor. Perfect for product releases and enabling hosts to engage with audiences on centre stages, revolving structures on stage are a fun and innovative way of utilising staging.
Creating the illusion of undulating structures through lighting and projection is another way to create movement on stage, without affecting the actual construction of the stage itself.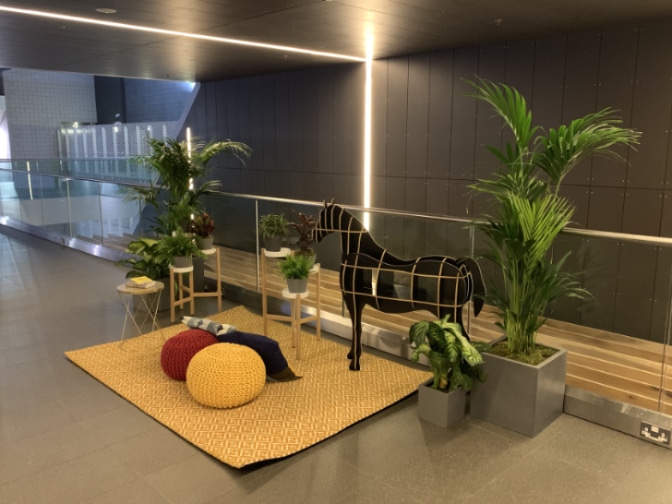 Projection allows you to display images onto surfaces. There are many ways to do this, for instance, projection mapping, which refers to projection onto all types of surfaces. Projection mapping can fill your whole stage, or a singular area, for an eye-catching set design.
You can also use a rear projection screen for projection onto a screen, great for seminars or conferences where audience understanding and engagement is key.
Projection mapping is a popular technique where images and graphics are projected onto a 3D surface, such as a stage backdrop, set piece, or even the walls and ceiling of the venue. With projection mapping, you can create dynamic, interactive visuals that enhance the event's overall atmosphere and messaging.
The best results come from teamwork
Your stage design and construction necessitate the collaboration of various teams, including designers, event set builders, and lighting and audio technicians. It can sometimes be tricky to bring all the teams together for the timely and smooth construction of your event, especially for large-scale, innovative events where the design aspect is critical.
At IMA, we pride ourselves on being team players and working efficiently and considerately when undertaking stage construction for our clients. We aim to construct high-performance, stunning stages for all event types by working to the highest standards amongst your wider team.
Find out more about us on social media